Birthdays and Reflections
Today I turned forty-four. Jim and the girls woke me up to breakfast served on our newly cleared-out deck, but that wasn't the biggest surprise. It was the matching chairs and table that they bought me yesterday for our tiny little deck – somehow surprising me after we'd spent all day looking at patio furniture (we'd gone home empty handed, but Jim went out later and picked up the chairs I liked best).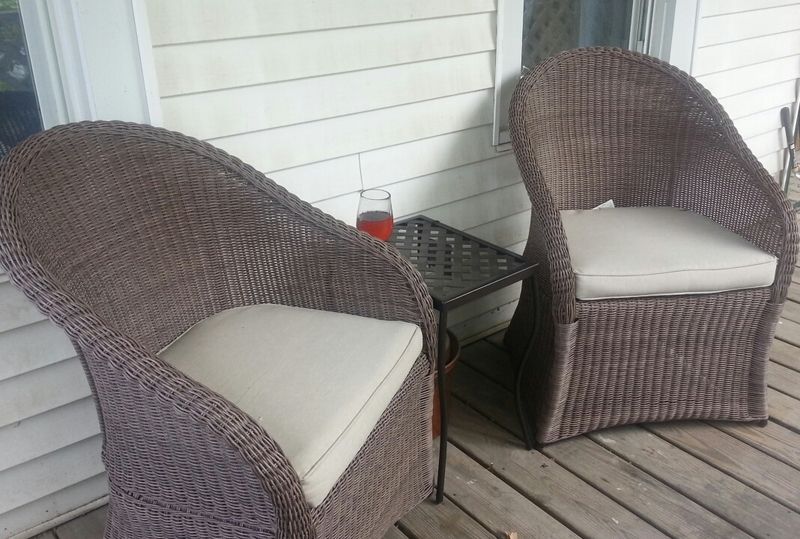 The deck is nowhere near finished. It's filthy and needs to be painted. We're planning to buy a power washer soon.  I need (want) the matching wicker loveseat so there's enough seating for all four of us and I'm saving up for this additional splurge. It needs flower pots and wind chimes, and maybe a little rug made from some kind of earthy, weather resistant material like sisal or seagrass. But it's a start. It may not look like much right now, but reclaiming this little deck is a huge deal.
We've been ignoring it for nearly three years, except to use as storage space. And this is significant because while it was never a particularly lovely or much-used deck, it was a place we could go to step outside. It stopped becoming usable space the year Ana was diagnosed. It was completely forgotten.
Yesterday I woke up in the morning and decided that I was going to reclaim it. By then it was bad – I mean, two-twin-mattresses, three-years'-worth-of-pizza-boxes, a-dusty-shop-vac and an old-TV bad. It was a reminder of how our lives were yanked from normal to not-normal in one instant. It only took about an hour to clear the deck off. We unearthed two broken chairs, two rusty chairs, a set of rusted wind chimes that I used to love, a dried out pile of home grown garlic (once Jim's pride and joy) and an empty bag of chicken feed (we had to get rid of the chickens when Ana started chemo.) We found our original fish tank, which had been flung out on the deck after all the fish died the first week that Ana was hospitalized – with no one here to feed them.
All of it's been thrown in the trash.
The only thing left was a rocking chair given to me by an old friend – absolutely decimated by the weather. It was the chair I used to rock the girls' to sleep in when they were babies. I guess I'd put it on the deck at one point, figuring that's where rocking chairs belonged. But it's done for – a visual representation of the passage of time.
I don't mean to be a drag on my birthday, but clearing off the deck brought up a lot of stuff (and not just the tangible crap I ended up throwing out). It reminded me of the actual MOMENT when we were ripped right out of our lives.  I didn't think I could be brought back there anymore – just like that – and on my birthday too! But that empty fish tank with its bright blue stones, its cracked glass, the one snail shell still on the bottom – it wasn't just like I was looking into a snapshot of awfulness, it was like I'd stepped inside of it all over again.
Well, now there are two shiny new chairs and a cute little table sitting between them on an empty (if filthy) deck that is waiting to be transformed. I've been going out there all day and staring into the yard, which we've neglected just as much as the deck. I think the forest wants to take it back. I had to cut down a vine that had wrapped itself around one of the poles where we'd hung a (once bright) weather thermometer. I can read the thermometer again though!
I'm glad for the new-old space. The old things are piled up beside the house ready to be carried away in a dumpster, and now there is room for the new. I don't resent the feelings either – or the memories. In a way these are also a gift because they are a reminder of the value of birthdays, and how each and every one of them is precious. Now if you'll excuse me, I need to go sit on the deck with glass of iced tea.