The Honor of Raising Ana
Fourteen years ago today, I had a baby named Ana. Before she was born, I had no idea how much love I was capable of giving to another human being, and I hope that doesn't sound dismissive to Jim, or my parents, or all of the people that I care so deeply for in my life. But one look at that little face…at those blue eyes…well…
I told Ana to prepare herself because I planned to gush on the blog. It was her birthday, after all, and I felt gushing was in order. But she rolled her eyes and said, "please don't," in that perfectly teenage tone she has. So, okay, she wins. I'll try not to gush. This blog has often chronicled Ana's transformation into a young woman as she battles a disease that doesn't care how old she is, or that she's my baby. It's been about my fear for her future, of not seeing her fully grow up, of the possibility that I might lose one of the biggest parts of my heart, but it is also about being her mother. Ana first laughed when she was six weeks old…she regularly fell asleep in this swing.
I have learned that having a child, raising a child, is a journey into the past, present and future. For me, Ana will always be that smiling toddler. The stages of her childhood are frozen in my mind, a slide show of moments that are burned into my heart, given to me by whatever powers create miracles, entrusted to me – a gift. She sucked her finger until she was nearly six. The stuffed animal she's holding in this photo is named Choobie (an alligator). She still has him.
I think about this concept a lot – the fleeting moments of early childhood, the firsts, the frustrations that I could've handled better like sleeplessness and tantrums, the years that fly by – so damn fast. And I worry too – about how every single moment isn't crystal clear, that they have blurred together to become a few defining memories, and a few shining characteristics that became the ingredients of her emerging personality. But I want to remember everything – each and every moment.
She loved playing in sandboxes, and building worlds. She collected things – like a little dragon – and still loves to collect things. She could sing as soon as she could talk – ten months old.
She has been a fiercely protective and loving big sister from the beginning, but those early years with Emily were magical. Emily, who needed surgery and attention and prompted strangers to stare until her lip was repaired – never inspired jealousy in Ana (that would come later, when they fought over toys and my attention). Ana thought all babies were born with clefts. She loved everything about her sister. In a way, Emily became part of her collection and it was clear from day one that the four of us were now complete.
She has always loved water. Our summers are structured around sprinklers, and water holes and public pools. I know she longs for the beach, as if she were born on Long Island (like me). If she gets her shot at growing up, if the treatment keeps things stable, if modern medicine continues to pull miracles out of thin air, then I fully believe she will live on a seashore somewhere, and revel in the sound of the ocean.
She is blessed with cousins who are also her best friends. They have been four – first Chloe, then Ana then Layla then Emily. May they always have each other. May they grow up and live within an hour's drive of each other. May they wear pastel colors and hold flowers at each other's weddings. May they share the joy of pregnancy and parenthood, and more cousins – and please, please, please let me be there to see it all ( or at least some) of it. Let her have many more birthdays. Let her grow up. Let her be…
She wasn't big into tea parties (this was Emily's tea set), but when she had them, all her stuffed animals were invited. The horses were her favorite, and Choobie was always there. For half a dozen years Ana slept with a pile of stuffed animals that covered her bed from one end to the other. Her favorites were the horses, the frogs and the dogs – but Choobie was always the one that slept on her pillow.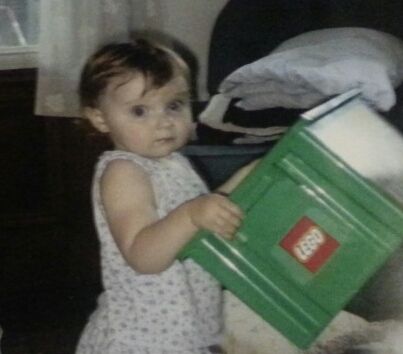 She loved LEGOS from an early age, and built worlds upon worlds until she outgrew them (much to my dismay) at around age ten. One of the worlds she built she named Arkomo, and it was assembled on her dresser for over a year – made from LEGOs, clay, tiny animals and toys. I wrote a book about it, but oh how I wish I'd taken a picture.
I loved this raincoat, and those matching pink sneakers. For a brief period of time, Ana lived in pink. But that was never really her thing.
And now my baby is fourteen years old. She doesn't let me hug her (much), she rolls her eyes more than she smiles (at least, at me) and in spite of my hovering, constant worrying, helicopter parenting and attempt to cushion her childhood so she would feel no pain – well, she has felt a lot of pain – and she has proven herself to be strong, resilient and brave. She makes me proud. Each and every day.
And today she is a young woman, who is gorgeous, talented, opinionated (sometimes infuriating) and hell bent on being fourteen. Yet she will always, always, always be my baby. So, I guess I gushed (oops), but how could I not? Happy birthday, sweet girl. I love you.